I have a small order of Viper vtx10r esc with pro gauge's that came in today.
Already sold two sets and have two for sale.They cost $229.99.Yes they have "blinky" mode.These are being compared to Tekin's for less money.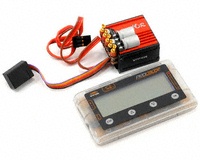 This is the Viper R/C VTX10R Sensored Brushless ESC with ProGauge. Viper's VTX10R electronic speed controller for 1/10 and 1/12-scale RC cars and trucks gives you more features and innovations to make your on-road and off-road RC cars not only ready to run, but ready to compete! The revolutionary V-PORT interface allows you to easily manipulate your ESC settings via the included VIPER ProGauge without unplugging the receiver connector. The small footprint allows for a variety of mounting options, while the waterproof aluminum case provides maximum durability.
Features:
* True sensored system
* Dynamic drag brake setting by motor RPM and curve profiles
* Dynamic timing boost for competitive track conditions
* Detailed throttle punch/curve setting
* SBEC up to 7.0V for the best steering response
* Battery cut off, ESC temperature, and motor temperature protection
* LED indicator for STOCK/MODIFIED class race
* Auto time-out power off
* Waterproof case
* ProGauge Multi-Function Meter
* VIPER Software for firmware upgrade (link device sold separately)
* 8 Default standard set up profiles that allow quick set up without ProGauge for easy bashing enjoyment
Specifications:
Model: VTX10R
ON Resistance: 0.000225Ω * 2
Battery Support: 2~3S Li-Po
Max Peak BEC voltage/amp: 7V / 5A
Motor Limit: 36mm/ 2.5T
Dimensions (WxLxH): 30x32.5x19.5mm
Sean
Evolution Hobbies and Raceway