Like the title says they are now in stock at Evolution Hobbies for $89.99 great charger for the price.I have had call's about when they would be in. So i decided to post that they are now in, to get the word out!
This is the DuraTrax Onyx 235 AC/DC Advanced Charger
with Built-In Balancer.
Combines the proven features of the Onyx 230
with balancing and other asked for extras.
Also charges LiPo, Li-Ion, and LiFe packs.
FEATURES: Charges 1-10 cell NiCd or NiMH (1.2 - 12V) cells and 1-4 cell LiPo
Li-Ion or LiFe (3.7 - 14.8V) cells
Balancing jack for up to 4 lithium cells
Universal jack for charging radio batteries
Detachable AC and DC input power cords
USB jack for charging music players, cell phones and other
accessories
Mini USB jack for downloading firmware
Custom CC/CV charge algorithm carfully charges Lithium Polymer,
Lithium-Ion or Lithium Ferrite-Phosphate (A123) batteries
fully and safely
Pushbutton controls and audible tones for easy setup and control
Precise peak detection with automatic TRICKLE charge fills packs
completely for optimum voltage and run time, 3 - 20mV adjustable
peak detection helps to customize charger-to-battery performance
Built-in banana jacks allow connection with many common charge
adapters, an adapter with Kyosho type plug is included
Built-in fan for long lasting performance
Custom reversed LCD with backlight for easy viewing in any condition
shows input and output voltges, peak voltage, charge current,
charge capacity and time and more
Small lightweight switching AC power supply delivers up to 5 amps
of charge current
Solid state reverse polarity and current overload safety devices
FIVE YEAR warranty through Hobby Services beginning at date of
purchase
INCLUDES: DuraTrax Onyx 235 AC/DC Advanced Charger with Built-in Balancer and
output adapters for Deans Ultra Plug, Traxxas and standard
connectors, lithium balance adapters for ElectriFly and
FlightPower/Thunder Power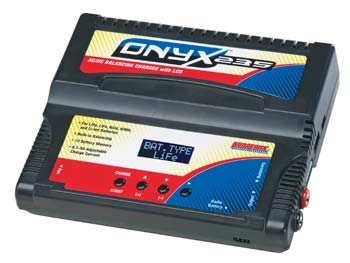 Sean
Evolution Hobbies